News and Views
Calumet New Tech students learn about war in Uganda
By |
CALUMET TOWNSHIP | The students at Calumet New Tech High School became part of a national movement Wednesday when they heard representatives of San Diego-based Invisible Children Inc. talk about the atrocities in northern Uganda.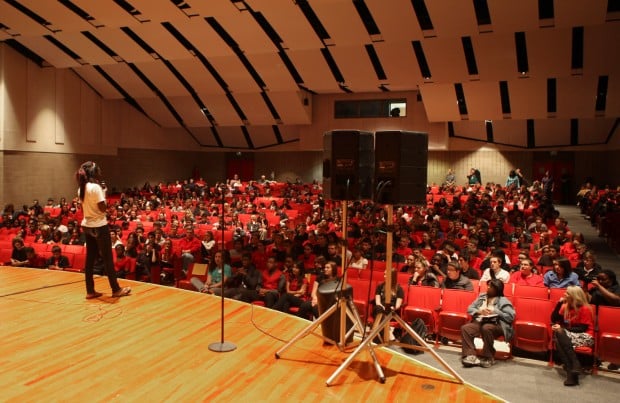 Calumet New Tech High School students listen Wedensday as Nume Mary Immaculate, 23, speaks about atrocities she witnesses in northern Uganda as a child. When Joseph Kony and his Lord's Resistance Army came to her village, 700 people were killed and 500 children were abducted, she said.
More than 600 students in grades nine to 12 and their teachers filled the auditorium to hear from Logan Richards, a volunteer with Invisible Children, and Nume Mary Immaculate, of northern Uganda, who will be in the United States until December.
Invisible Children, a nonprofit organization founded in 2004, produced the film "Kony 2012" about Joseph Kony, of the Lord's Resistance Army. Kony's army has been abducting, killing and displacing civilians in east and central Africa since 1987.
Richards showed students the follow-up documentary titled "Move: What if we all spoke the same language?"
He talked to the high school students about the ongoing war in parts of Africa, and called Kony the worst and most brutal leader in many years.
He also said the organization is inviting people to a rally Nov. 17 in Washington, D.C., to lobby the White House and other national leaders to catch Kony, who is believed to be hiding in central Africa.
Nume Mary Immaculate, 23, told students that she remembers when she was younger, Kony came to her village in northern Uganda and 700 people were killed and 500 children were abducted.
"Life became very sad for me," she said. "I looked left and right for help. I had to drop out of school. School is very expensive in Uganda, not free like it is here."
Eventually, she was able to return to school and is now among less than 1 percent of women in Uganda who have a bachelor's degree.
"There is peace now in northern Uganda, but others in Africa need help," she told students.
Marisol Orozco, 14, a freshman, said the film and talk were inspirational.
"It explained everything. I don't understand why people, especially people with money, are not jumping in to help. People need to step in and do something about it before it gets any worse," she said.
New Tech director Cynthia Trevino said students will be working on project-based assignments centered around the "Kony 2012" and "Move" documentaries. She said the presentation also gives students an opportunity to understand that they have "a duty as citizens to actively participate to make this world a better place."