Entertainment, Film and Music
J.K. Simmons Wins Best Supporting Actor At The 2015 Oscars, Wants You To Call Your Mom
By |
J.K. Simmons won Best Supporting Actor at the Oscars on Sunday for his performance in "Whiplash."
In the film, Simmons plays fearsome band teacher Terence Fletcher, who continuously abuses young jazz drummer Andrew (Miles Teller) as the student tries to prove his worth. This is the 60-year-old actor's first Oscar nomination and win. He beat out Ethan Hawke ("Boyhood"), Robert Duvall ("The Judge"), Edward Norton ("Birdman") and Mark Ruffalo ("Foxcatcher") for the honor.
Simmons thanked his wife and children in his acceptance speech, before making a plea to everyone to call their parents.
"If you're lucky enough to have a parent alive on this planet — call them, don't text them!" Simmons said.
Simmons, known for his roles on television shows "Oz" and "Law & Order," has been sweeping the Best Supporting Actor category throughout the 2015 awards show season. He was previously named Best Supporting Actor by the Golden Globes, Screen Actors Guild Awards, Critics' Choice Awards and BAFTA Awards.
"So much of my career as a screen actor has been in smaller and supporting roles and this is certainly a supporting role as well, but people refer to this as a two-hander even though there are wonderful characters in it. It's a very meaningful part that's a bigger part of the script than a lot of my characters tend to be," Simmons told Interview magazine of landing the part in "Whiplash." "I still go in and read for directors and meet directors, but it's nice to have somebody just offer me a part like this out of the blue. In that way it's sort of another level of accomplishment/luck."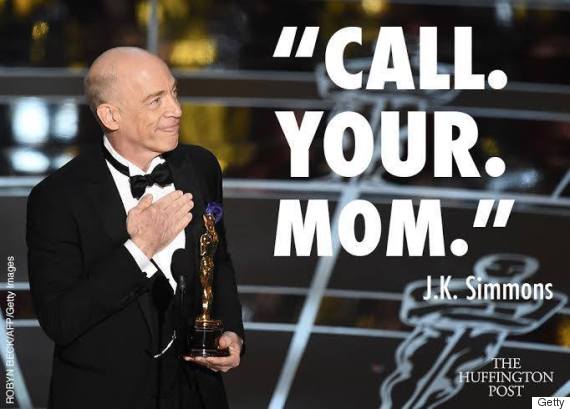 For a full list of Oscar winners, head here.
http://www.huffingtonpost.com/2015/02/22/jk-simmons-best-supporting-actor-oscars_n_6700458.html?ir=Entertainment&utm_campaign=022215&utm_medium=email&utm_source=Alert-entertainment&utm_content=FullStory