News and Views
UK students stuck in educational doldrums, OECD study finds
By |
A stubborn gap in attainment between Britain's best- and worst-performing students has pinned the UK to the middle of international education rankings, despite years of effort by successive governments to raise standards.
The latest edition of the programme for international student achievement (Pisa) from the Organisation for Economic Co-operation and Development (OECD), published today, shows the UK's position virtually unchanged from the last exercise in 2009, with slight improvements in the reading and maths scores of the nation's 15 year-olds offset by a minor drop in science.
The UK slipped back four places in science, to rank 20th out of 65 countries and regions taking part in exams administered by the OECD; in maths and reading the UK gained two places to reach 26th and 23rd overall, with results comparable to France's.
Andreas Schleicher, the OECD's deputy director for education and skills and co-ordinator of the Pisa programme, said anyone looking for the impact of the education reforms introduced in England since the 2010 election was "three years early".
"You are not going to see great surprises about the UK in this data," Schleicher said, announcing the results at a briefing in London.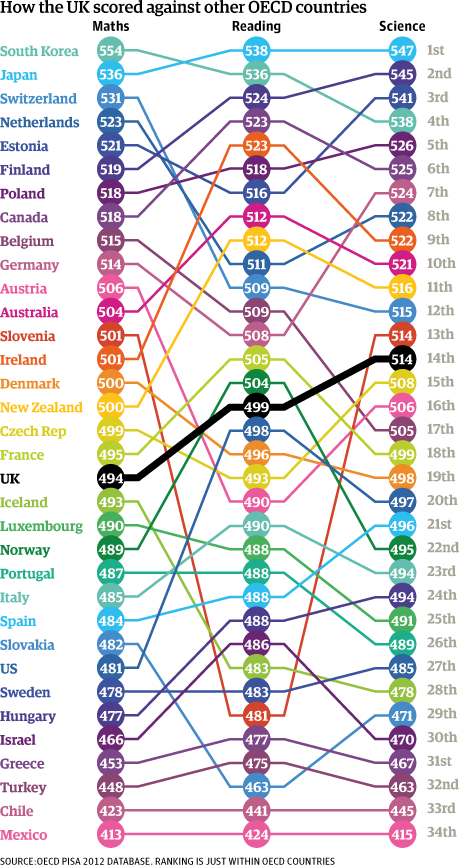 But Tristram Hunt, Labour shadow education secretary, seized on the improved performance by Britain's Asian economic rivals – including China's Shanghai region, Taiwan and South Korea – to accuse David Cameron of failing to confront the international challenge.
by Richard Adams, education editor